Scraped surface heat exchanger HE
The heat exchanger HE is designed for efficient heating and cooling of liquid and pasty products, including those with high viscosity for example jam, chocolate, caramel, coatings, creams, marinades, baby food, honey, fish and meat fillings, and any similar products. 
The unit can be produced in the vertical or horizontal variants depending on its heat exchange area. 
For a price quote or a free consultation, send us an email to sales@foodtechprocess.com 
The surface heat exchanger is a professional way that can be used in the production process to ensure the expected results.
This is done in accordance with the properties of the product, such as e.g. content, high viscosity, crystallization, and phase transformations.
Scraped surface heat exchangers have a great advantage over other heat exchanger systems. This heat exchanger combines the conventional principle of heat transfer and a unique design that offers many advantages for efficient heat or cold transfer for demanding pro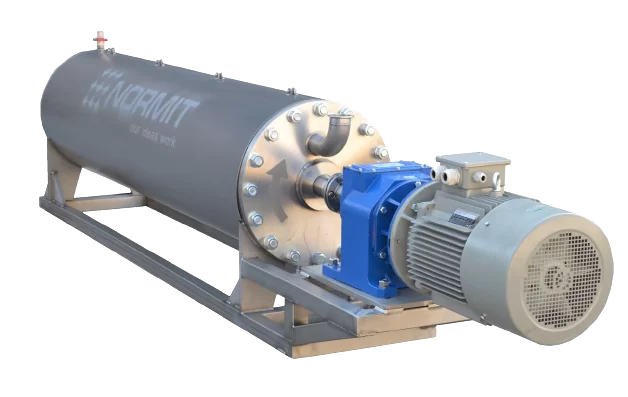 ducts.
HOW IT WORKS
The product is fed into the cylindrical casing and moves tangentially against the heating or cooling medium that is fed to the system. Continuously rotating scrapers knives remove the product from the cylinder walls, ensuring even heat distribution to the system.
The improvement in heat transfer efficiency is achieved by increasing the heat input rate of the heating medium or coolant into the housing. Rotor speed can vary to achieve the desired product quality and quantity.
A wide range of heat exchangers, materials, and accessories allow the selection of scraped surface heat exchangers to suit the needs of any process.
The heat exchanger can be integrated into any production line and in any process and allows the required process to be carried out quickly, efficiently, and very hygienically.
Scraped surface heat exchangers can be connected to an existing heating or cooling source or can be supplied with its own heating/cooling station.
The scrapers are made of high-tech materials that are not toxic and not damage the taste of the product and decrease its value in accordance with the standards of food products.
Ongoing processes:
crystallization
dissolution
sterilization
pasteurization
polymerization
freezing
heating
deep cooling
Applications in the pharmaceutical and chemical industries:
Applications - in the food industry:
margarine
spreads
jams
chocolate
caramel
fat
coatings
cream
marinades
peanut butter
honey
animal and vegetable fats
baby food
fish and meat fillings and pâtés
Advantages of using a scraped surface heat exchanger:
fast and highly efficient product handling
Effective heat or cold transfer.
The continuity of the process eliminates the burning or freezing of the product
Large heating surface in confined space
Gentle product handling eliminates product damage
Easy maintenance
Quick and easy replacement of scrapers-knives
Easy to open lid
Low cost compared to similar models
Highest quality materials: all parts that come into contact with the product are made of the highest quality stainless steel AISI 304 /  other options on request
3 other products in the same category: